Introduction to Polyurethanes 2022
On 6th and 7th September we had the pleasure to organise the 4th Introduction to Polyurethanes Course in Videnparken in Fredericia.
It was nice to meet the very lively team of 15 participants from 9 different Danish companies.
And also again a very motivated team of lecturers from Plixxent, Nortec-Cannon, Undén, Huntsman, Vencorex and ChemTrend, who all kept the participants busy over the two days.
Thanks to Erik, Ralf, Annemette, Michael and Chris, Xavier and Jeannette for once again sharing your knowledge with us.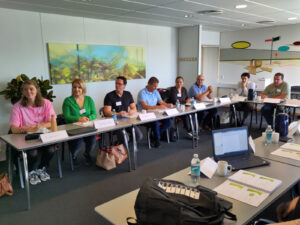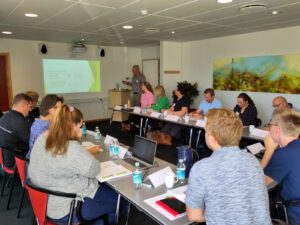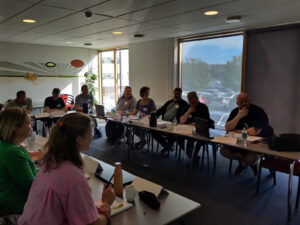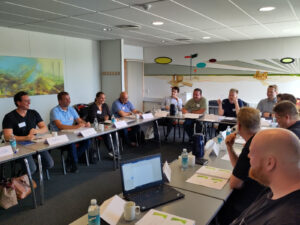 Resumé
Polyurethan

Grundkursus – Videnparken Trekantområdet – september 2021

Kurset i starten af september var det tredje i rækken af mere avancerede polyurethankurser afholdt i Videnparken i Fredericia.

I alt 22 deltagere var på plads tirsdag morgen d. 7. september og så blev der ellers taget fat på det omfattende program med i alt 17 lektioner, der spændte fra den grundlæggende polyurethankemi, over fremstillingsteknologier for fleksible, stive og elastomere polyurethaner til sikkerhed, cirkulær økonomi og standarder for produkterne.

Der medvirkede i alt seks eksterne foredragsholdere på kurset. Ralf Godbey fra Nortec- Cannon A/S fortalte om Cannon Your Technology Centre, Erik Larsen fra Plixxent A/S fortalte bredt om polyurethanråvarer og additiver til fremstilling af polyurethansystemer, beregninger af recepter og kom også ind på RePURpose projektet til recyling af polyurethanprodukter. Annemette Undén fra SDG Innovation gav et oplæg til sessionen om cirkulær økonomi, der blev efterfulgt af gruppearbejde. Chris Ungermand fra Huntsman Polyurethanes fortalte om sikkerhedsaspekter i forbindelse med arbejde med diisocyanater og de snart kommende krav om en ny obligatorisk diisocyanatuddannelse i hele EU. Endvidere havde Chris et indlæg på andendagen af kurset om Easy PIR til fremstilling af sandwichpaneler i klasse E.

Som et nyt indslag havde Vencorex tilbudt en lektion om alifatiske diisocyanater og deres hovedanvendelser, som falder inden for coatings, adhesives & sealants og termoplastisk PU (TPU). Lektion blev givet af Xavier Challamel over Teams, da Xavier ikke havde mulighed for at rejse fra Frankrig til Danmark på grund af restriktioner.

Ligesom sidste år fortalte Jeannette Sund fra Chem-Trend om slipmidler til formstøbning af polyurethanemner – et indslag som altid rejser en række spørgsmål.

Evalueringen af kurset var meget positiv og med en række relevante bemærkninger og forslag til forbedringer. Sidste års forslag om et for-kursus i grundlæggende kemi blev fulgt op med et for-kursus d. 1. september, som havde 10 deltagere, dels i Videnparken, dels over Teams.