Polyurethan

Grundkursus
Videnpark Trekantområdet – 7000 Fredericia
19. og 20. september 2023
I sidste uge, 19.-20. september, gennemførte vi 5. PolyurethanGrundkursus i Videnparken i Fredericia.
I år var der ikke så mange deltagere, men det var et rigtigt fint hold med en god blanding af polyurethanerfaring og en næsten fifty-fifty blanding af danske og svenske deltagere.
Efter de grundlæggende 'øvelser' i kemiske reaktioner med isocyanater, vigtige begreber og fremstilling af diisocyanater og polyoler, kom Erik Larsen fra Plixxent på banen og tog deltagerne gennem en præsentation som kom hele vejen igennem opbygning af polyurethanrecepter til 'the four corners of PUR'. Til sidst i sin præsentation gav Erik en status på RePURpose udviklingsprojektet, hvor udtjent polyurethan kan omdannes til nye byggesten for nyt polyurethan. Projektet fortsætter, da der stadig er en del uafklarede spørgsmål. Vi håber at høre mere herom næste år.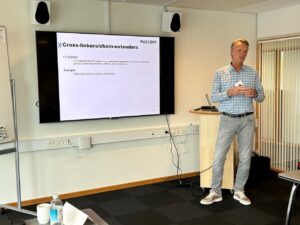 Erik Larsen fra Plixxent
Efter Eriks indlæg fulgte Ralf Godbey fra Nortec Cannon med Cannon Afros Plastics Processing Technologies. Ralf koncentrerede sig i år meget omkring teknologier, der anvendes inden for bilindustrien, hvor anvendelse af polyurethaner til en række komponenter fra sæder over bilrat til generel isolering af bilerne stiger år for år.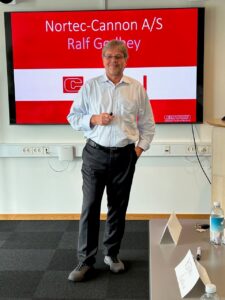 Ralf Godbey fra Nortec Cannon
Første dag blev afsluttet med to indlæg om fleksibelt polyurethan, både slabstock-produktion og moulding; samt formulering af specifikke recepter.
Andendagen bød på fire eksterne foredragsholdere. Ny i år var Martin Henriksen fra IKO, de fulgte op på indlæggene om stift polyurethanskum ved at præsentere anvendelse af PIR isoleringplader, der som isoleringsmateriale er i absolut topklasse i forhold til traditionelle isoleringsmaterialer.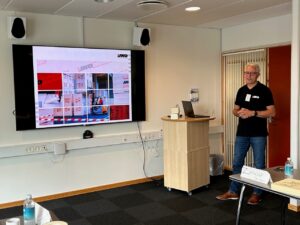 Martin Henriksen fra IKO       
Også en ny foredragsholder kom på banen i indlægget om cirkulær økonomi og genanvendelse. Miljøpolitisk chef Christina Busk fra Plastindustrien delte sin store erfaring og viden med deltagerne.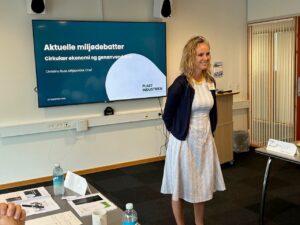 Christina Busk
Igen i år kunne vi så byde velkommen til Jeannette Sund fra Chem-Trend, en af vores førende eksperter inden for slipmidler til formstøbning af polyurethanproddukter. Der var meget stor interesse for dette foredrag idet Jeannette havde en række gode eksempler i form af case studies for korrekt anvendelse af slipmidler og forberedelse og håndtering af formene.
Tredje nye foredragholder i år var Rasmus Nielsen fra Dana Lim, der kom med en meget spændende og forståelig præsentation om polyurethanbaserede lime, klæbestoffer og hot melts til industrielle anvendelser. Rasmus gennemgik limteknologi for 1K, 2K polyurethaner og PUR hotmelts.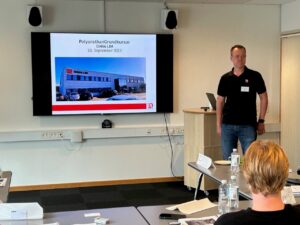 Rasmus Nielsen 
Kurset blev rundet af med præsentation om integralskum og elastomerer og til sidst, CE mærkning af byggevarer, hvor polyurethanprodukter spiller en spor rolle og gennemgang af betydningen af ATEX direktivet, når der anvendes pentan som drivmiddel i fremstillingsprocesserne.
Tak til alle foredragsholderne og til alle deltagerne deltagerne. I var et underholdende hold!

Introduction to Polyurethanes 2022
On 6th and 7th September we had the pleasure to organise the 4th Introduction to Polyurethanes Course in Videnparken in Fredericia.
It was nice to meet the very lively team of 15 participants from 9 different Danish companies.
And also again a very motivated team of lecturers from Plixxent, Nortec-Cannon, Undén, Huntsman, Vencorex and ChemTrend, who all kept the participants busy over the two days.
Thanks to Erik, Ralf, Annemette, Michael and Chris, Xavier and Jeannette for once again sharing your knowledge with us.