BRONNUM Consulting Engineer
The company provides advice on all aspects regarding polyurethane (PU) production, including raw material selection, foam formulation, process development, product development, polyurethane product tests, HSEQ aspects and CE marking.
PU NEWS     LINK TO CE MARKING      LINK TO ATEX REGULATION
Polyurethan

Grundkursus
Videnpark Trekantområdet – 7000 Fredericia
7. og 8. september 2021
Kurset her i starten af september var det tredje i rækken af mere avancerede polyurethankurser afholdt i Videnparken i Fredericia.
I alt 22 deltagere var på plads tirsdag morgen d. 7. september og så blev der ellers taget fat på det omfattende program med i alt 17 lektioner, der spændte fra den grundlæggende polyurethankemi, over fremstillingsteknologier for fleksible, stive og elastomere polyurethaner til sikkerhed, cirkulær økonomi og standarder for produkterne.
Der medvirkede i alt seks eksterne foredragsholdere på kurset. Ralf Godbey fra Nortec- Cannon A/S fortalte om Cannon Your Technology Centre, Erik Larsen fra Plixxent A/S fortalte bredt om polyurethanråvarer og additiver til fremstilling af polyurethansystemer, beregninger af recepter og kom også ind på RePURpose projektet til recyling af polyurethanprodukter. Annemette Undén fra SDG Innovation gav et oplæg til sessionen om cirkulær økonomi, der blev efterfulgt af gruppearbejde. Chris Ungermand fra Huntsman………………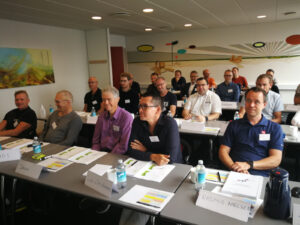 UTECH Europe 2021
One of the most important events for the polyurethanes community, UTECH Europe 2021, has been rescheduled to 16-18 November. The venue, MECC in Maastricht, Netherlands, is unchanged.
More details can be found at the event's website, www.utecheurope.eu.
News from ISOPA
The EU introduces mandatory training of diisocyanates workers from 24 August 2023 in new REACH Restriction
Referring to the website of ISOPA (European diisocyanate & polyol producers association), the restriction on diisocyanates under the EU's REACH Regulation published 4th August 2020 in the EU Official Journal introduces new minimum training requirements for workers handling diisocyanates and mixtures containing diisocyanates. ISOPA/ALIPA and their member companies welcome the Restriction which is an important step to enhance and harmonize the level of protection of workers using diisocyanates across the EU. The Restriction will apply from 24 August 2023 after a transition period of three years, and ISOPA/ALIPA together with other industry-associations are developing a comprehensive package of training materials for the industrial and professional value chains.