BRONNUM Consulting Engineer
The company provides advice on all aspects regarding polyurethane (PU) production, including raw material selection, foam formulation, process development, product development, polyurethane product tests, HSEQ aspects and CE marking.
PU NEWS     LINK TO CE MARKING      LINK TO ATEX REGULATION
De nye diisocyanatuddannelser i Norge nærmer sig deadline
Restriktionen for diisocyanater under EU's kemikalieregelværk (REACH) træder i kraft 24. august 2023.
Norge har implementerett EU-kommisjonens restriktioner stofgruppen diisocyanater. Formålet med restriktionen er at forhindre at  arbeidstagere udvikler respiratorisk hypersensitivitet, hovedsagelig astma, og andre luftvejsislidelser. Diisocyanater er sensibiliserende og har enten en harmoniseret klassificering som Resp. Sens. 1 og eventuelt også Skin Sens. 1, eller er klassifiseret som dette af leverandørene. Restrsiksjonen indeholder en grænse for diisocyanater i stofblandinger på 0,1 % eller højere og detaljerede krav til oplæring af arbeidstagere som kan blive eksponeret for diisocyanater.

En arbejdsgruppe med repræsentanter fra Norsk Industri, Norsk Yrkeshygiejnisk Forening og PUR-gruppen har derfor i de sidste måneder arbejdet intenst med at tilvejebringe et grundlag for diisocyanat-uddannelsen i Norge.
Et udvalg af undervisningmoduler fra ISOPA er blevet oversat til norsk og er blevet kvalitetssikret.Efter flere møder med Arbeidstilsynet står det klart, at uddannelsen skal være understøttet af eksperter i arbejdsmiljø og sikkerhed, som typisk kan være medarbejdere fra PUR-gruppens medlemmers lokale Bedrifthelsetjenester (BHTér) eller medlemmernes egne arbejdsmiljø- og sikkerhedseksperter. De udvalgte undervisningsmoduler vil blive placeret på Norsk Industri's læringsplatform.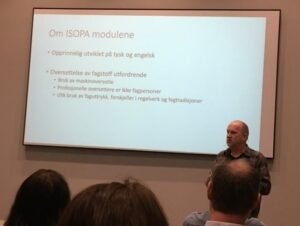 1: Hans Thore Smedbold fra Norsk Yrkeshygienisk forening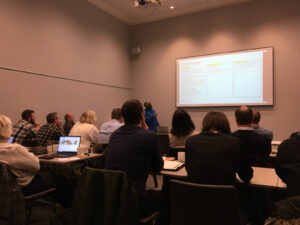 2: Abdulqadir Suleiman fra Arbeidstilsynet
For at hjælpe disse eksperter har arbejdsgruppen har derfor også taget initiativ til et et-dags Train-the-Trainer kursus. Dette blev afholdt 15. februar i Gardermoen lufthavn for 18 deltagere.
Programmet for kurset omfattede indlæg om baggrunden for restriktionerne, regelværket i Norge og EU, grundlæggende diisocyanatkemi, gennemgang af slide deck modulerne, muligheder og begrænsninger i effektiv eksponeringskontrol, CLP mærkning, kritisk brug af SDS'er og endelig, planlægning og forberedelse af oplæringen. Medvirkende på kurset var det norske Arbeidstilsyn, Norsk Yrkeshygienisk Forening, PUR-gruppen og Norsk Industri.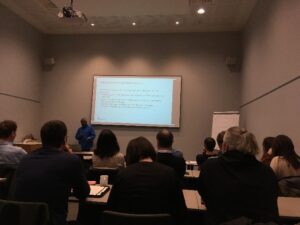 3: Abdulqadir Sulaiman fra Arbeidstilsynet
Flere detaljer finder I under fanen PUR-gruppen in Norway.