BRONNUM Consulting Engineer
The company provides advice on all aspects regarding polyurethane (PU) production, including raw material selection, foam formulation, process development, product development, polyurethane product tests, HSEQ aspects and CE marking.
PU NEWS     LINK TO CE MARKING      LINK TO ATEX REGULATION
UTECH Europe 2021
One of the most important events for the polyurethanes community, UTECH Europe 2021, has been rescheduled to 16-18 November. The venue, MECC in Maastricht, Netherlands, is unchanged.
More details can be found at the event's website, www.utecheurope.eu.
Polyurethan

Grundkursus oktober 2020
Polyurethan Grundkurset i Videnparken, som oprindelig var planlagt til april i år,  blev afviklet den 27.-28 oktober 20202.
Der var lige som sidste år stor interesse for kurset; på grund af corona-krisen var deltagerantallet begrænset til 14 deltagere.
Tak til alle involverede i at få afviklet arrangementet i fin stil!
Naturligvis stor tak til de eksterne foredragsholdere, Chris Ungermand, Huntsman Polyurethanes, der fortalte om PIR foams in insulation panels, Ralf Godbey, Nortec-Cannon A/S, der gav en indføring i Cannon Afros' store program for produktionsudstyr, Erik Larsen, Plixxent A/S, der gennemgik opbygning af PU recepter, basis kemikalier, beregning af isocyanat forbrug og blandingsforhold, Annemette Undén, SDG Innovation, der stod for oplæg til og facilitering af gruppearbejdet om cirkulær økonomi – og endelig Jeannette Sund fra Chem-Trend, der kom med et nyt indlæg om slipmidler, der også blev vel modtaget.
Til sidst, ikke mindst tak til alle deltagerne for aktiv og positiv medvirken og den store spørgelyst!
Det planlægges at holde et nyt kursus næste år, men datoerne herfor er endnu ikke fastlagt.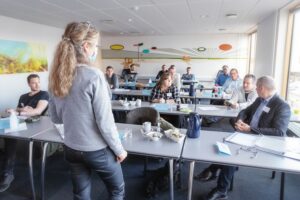 News from ISOPA
The EU introduces mandatory training of diisocyanates workers from 24 August 2023 in new REACH Restriction
Referring to the website of ISOPA (European diisocyanate & polyol producers association), the restriction on diisocyanates under the EU's REACH Regulation published 4th August 2020 in the EU Official Journal introduces new minimum training requirements for workers handling diisocyanates and mixtures containing diisocyanates. ISOPA/ALIPA and their member companies welcome the Restriction which is an important step to enhance and harmonize the level of protection of workers using diisocyanates across the EU. The Restriction will apply from 24 August 2023 after a transition period of three years, and ISOPA/ALIPA together with other industry-associations are developing a comprehensive package of training materials for the industrial and professional value chains.